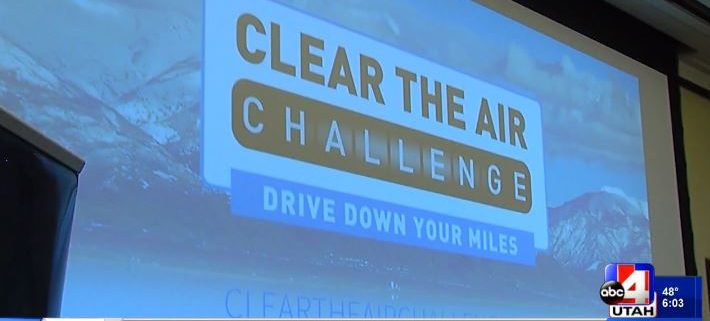 Clear the Air Challenge Encourages Utahns to be Part of Air Quality Solution
Originally published by ABC4Utah on January 29, 2018.
SALT LAKE CITY (News4Utah) – Starting February, community leaders are challenging you to help be part of the air quality solution.
In a press conference Monday afternoon, the Salt Lake Chamber and its clear air partners kicked off the 9th annual Clear the Air challenge. The challenge is a month-long competition designed to encourage Utahns to reduce their vehicle emissions by choosing alternatives to driving alone.
For the first time, the challenge is held during the month of February. Staff with the Salt Lake Chamber say that's when the air quality is visibly at its worst.
"There is no greater health threat to our community than poor air quality," said Lane Beattie, president and CEO of the Salt lake Chamber. "Doing our part to clear the air isn't just about our quality of life, it's about the quality of life for our children and grandchildren. It's also an economic issue. In order to attract and retain the kind of talent we need to further our state's economy, we have to protect our unparalleled quality of life. This is everyone's responsibility. The Clear the Air Challenge shows us that small individual changes can, and do, make a difference to Utah's air quality."
According to Beattie, transportation emissions are responsible for nearly fifty percent of the pollutants that make up our poor air quality. He acknowledged that other big cities face the same problem, but there's one addition problem that Utah has.
"We're in the Great Basin. So it's a little harder to clean that out with breezes and what they have coming into the ocean or some other place," said Beattie.
The Salt Lake Chamber reports that since the challenge started in 2009, participants have helped improve Utah's air quality by:
– Eliminated almost a million trips
– Saved 13.6 million miles
– Reduced 4,700 of emissions
– Saved $6 million
"This is probably the cleanest air we've had in a hundred years. The reality is we're much more aware of the costs of bad air and pollution and what that does to us," said Beattie.
Other ways to travel include:
– Carpooling
– Using public transit
– Teleworking
– Trip chaining
– Walking
– Biking
– Using electric vehicles
Participants can track their miles during the Clear the Air Challenge from their mobile device or computer using the TravelWise Tracker. You can register for the challenge by visiting https://cleartheairchallenge.org. The TravelWise tracker allows participants to enter in a starting and ending location to receive carpool options, transit routes, biking, and walking routes. It can also give the amount of emissions saved and provide the amount of time it will take to make the trip.
https://cleartheairchallenge.org/wp-content/uploads/abc4.jpg
400
710
Marisa Bomis
https://cleartheairchallenge.org/wp-content/uploads/2017_CTAC_LOGO_Still-01.png
Marisa Bomis
2018-01-29 23:10:23
2018-01-30 23:12:54
Clear the Air Challenge Encourages Utahns to be Part of Air Quality Solution