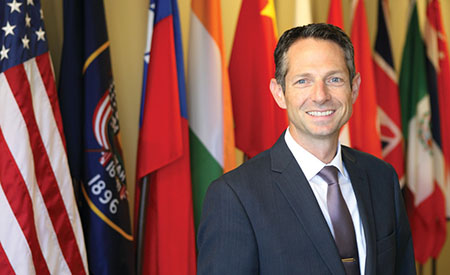 Finding a Solution for Clear Air in Utah
Originally published by Derek Miller, World Trade Center Utah, on Utahpolicy.com on January 21, 2018.
You may not equate economic prosperity with air quality, but you should. Air quality is an important economic issue.
Poor air quality hinders corporate relocation efforts, places additional regulatory burdens on businesses, increases health care costs and puts Utah's federal highway funding at risk. Improving our air quality is essential to maintaining Utah's quality of life and economic prowess.That's one message Thom Carter, executive director of UCAIR, the Utah Clean Air Partnership, emphasized when I visited with him last week.
While his career has taken him all over the country and world, Thom loves the Beehive State's quality of life, fantastic landscape and economic strength. In the few years he's been back in the state, he's come to love "the Utah way of getting things done," referring to our many public/private partnerships.Thom describes UCAIR as a state-wide clean air partnership created to make it easier for individuals, businesses and communities to make small changes that improve Utah's air. The organization strives to raise awareness through public education, grants and partnerships with businesses and other organizations to promote changes that will improve our air quality.
Given that we can't change the state's topography or weather, owning our air quality problem means we must make behavioral changes. As Thom told me, when it comes to air quality, "Everyone is the problem, so everyone is the solution. Every small change adds to a collective bigger step toward better health, a better economy and better overall quality of life for all of us."
For example, with more than half the state's air pollution coming from vehicles, individuals and businesses can make a significant difference in our air quality simply by changing their driving habits. According to the Utah Division of Air Quality, if all drivers living along the Wasatch Front were to park their cars just one day per week, vehicle emissions would be reduced by 6,500 tons per year.
Thom says there are no perfect answers, but there are practical solutions. Driving less, carpooling, using mass transit and telecommuting – those are practical solutions that make a difference. He points to the Utah Clear the Air Challenge as another solution that is working well. The Challenge begins Feb. 1 and is a month-long competition that gives individuals and businesses the chance to reduce vehicle emissions by choosing alternatives to driving. Results from the 2016 Challenge showed that the 2,281 participants reduced C02 emissions by 492.6 tons for the month of February.
"It all boils down to one person, one business at a time," Thom continues.
UCAIR will hold its third annual summit on Feb. 21 at Rice-Eccles Stadium from 6:30-9 p.m. NBA Hall of Famer Bill Walton will keynote the event. Bill is a lifelong fan of Utah and its unparalleled outdoor recreation.
Participants will gain insight into UCAIR's progress, grants and updates. UCAIR will also recognize the "Clean Air Person of the Year," "Clean Air Business of the Year," and "Clean Air Partner of the Year." For more information on the summit, contact Mike Deaver at 801-245-9329 or Angie Koford at 801-660-8571.
https://cleartheairchallenge.org/wp-content/uploads/Derek_Miller_01.jpg
275
450
Marisa Bomis
https://cleartheairchallenge.org/wp-content/uploads/2017_CTAC_LOGO_Still-01.png
Marisa Bomis
2018-01-21 23:01:33
2018-01-30 23:04:32
Finding a Solution for Clear Air in Utah