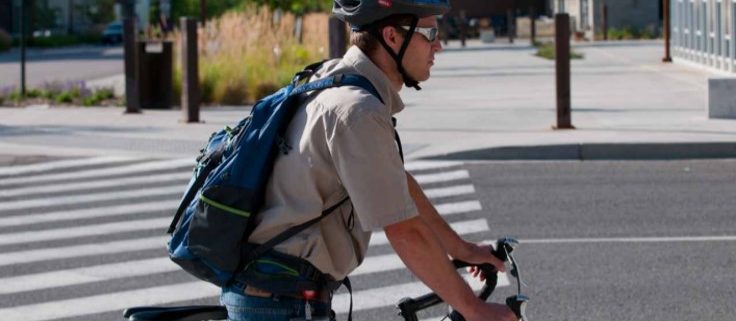 A Little Competition is Healthy. Start from the Top.
Originally published by the Salt Lake City Economic Development on January 19, 2018.
Sometimes a little competition is just what you need to jump-start new habits. While Utah's air quality is no laughing matter, the challenge is one way to amp up your daily routine and see how many miles and dollars you can save just by making more air-conscious decisions.
Clear the Air Challenge starts February 1st. And you can sign up your company for the team challenge. Get your employees and coworkers involved and see how easy it is to reduce emissions and help Utah's air.
It's easy to get started. Create an administrator account and have individual teams under one workplace. Competition could be for overall participation or based on % within your department. Or you can opt to compete for calories burned, $ saved, miles traveled, etc.
Prizes could be anything from cash gift cards, something with a sustainability theme like a bike light or a water bottle, or even an extra day off work. It could also be lunch with the boss or a certificate.
Clear the Air Challenge has made it easy with their business tool kit – it has all of the communication materials you need to send out to staff.
WHO'S IN THE LEAD?
Check back daily to CleartheAirChallenge.org to see the top winners in our business 
community. By signing up you will receive updates to let you know where your team stands in the running.
ADVICE FROM PAST CLEAR THE AIR CHALLENGE TEAMS
Here are some tips from past Clear the Air Challenge team leaders…
Communication is key. Make the Challenge an agenda item for your internal meetings, send weekly reminders to staff – the more airtime it gets the better your team will do.
Work with your employees. Help them identify opportunities for carpool matching, public transportation and flexible work arrangements, if applicable.
It starts from the top. Your CEO or president really needs to say, "This is important."
Emphasize the impact. When you look at the emissions you can save by being involved in the Challenge, and when you look at the way we can improve our state, I think that is an easy thing to communicate to employees.
Don't be afraid to just give it a try. My advice is to try it – the tools are provided for you. Put a committee together of people who believe in the issue – champions in your organization who can help share the message.
Salt Lake City Green has very helpful resources to keep your team informed. They recommend keeping these key tactics in mind: Carpool, take transit, telework, support active transportation, trip chain, and consider clean air vehicles (electric vehicles) for personal and fleet.
Share your progress on social media. Follow SLC Green, Salt Lake Chamber, UCAIR, Clear the Air Challenge, and other community clean air leaders. Share their content on your channels.
NOW is the time to start your team.  Join the Challenge and together we can clear Utah's air.  Start at www.cleantheairchallenge.org
https://cleartheairchallenge.org/wp-content/uploads/bikeguy.jpg
459
736
Marisa Bomis
https://cleartheairchallenge.org/wp-content/uploads/2017_CTAC_LOGO_Still-01.png
Marisa Bomis
2018-01-19 23:07:45
2018-01-30 23:10:18
A Little Competition is Healthy. Start from the Top.