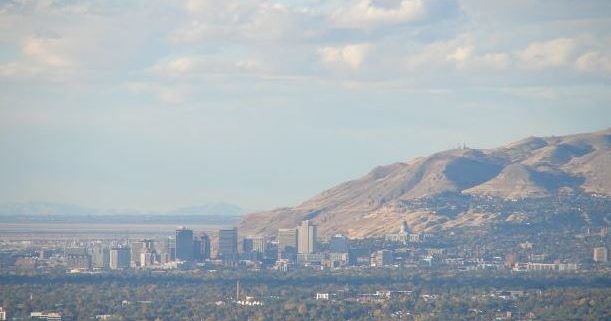 Make Clean Air Your Business: 5 Reasons to Participate in the Clear the Air Challenge
Originally published on January 18, 2018 by KSL.com.
We've all seen it — and breathed it, but what if there was something we could do to clean up Utah's dirty air? The good news is, there is something we all can do to help create a better tomorrow, with cleaner air for our neighbors, children and grandchildren.
While Utah's poor air quality is exacerbated by our geography that creates the inversions; it's the emissions that get trapped in the inversions that are harmful to our health. So to clean up our air, we need to reduce our emissions. It's that simple.
That's why the Salt Lake Chamber is encouraging everyone to take part in the Clear the Air Challenge, a month-long competition that starts Feb. 1 and gives participants the chance to reduce their vehicle emissions by choosing alternative methods of transportation.
By driving less and driving smarter, which includes carpooling, telecommuting, taking public transit and more, we can see a significant reduction in our bad air days. For example, if all drivers living along the Wasatch Front were to park their cars just one day per week, vehicle emissions would be reduced by 6,500 tons per year!
If you're still not convinced about why you should take the Clear the Air Challenge, here are five reasons you should reconsider:
1. Help improve the air you breathe
Reducing the number of cars on the road leads to improved air quality. As you change individual behavior to reduce your trips, and as you challenge your family, friends, neighbors and co-workers to do the same, you can collectively reduce emissions, improve our air quality and the well-being of all Utahns. Small actions add up to make a big difference for our air.
2. Enhance your corporate culture
A recent survey of Utah employees found that poor air quality is a top concern across the state. More than just a competition, participating in the challenge is the perfect way for your company to show a commitment to a cause your employees care about — improving air quality. Demonstrate good corporate citizenship by taking action to make a difference.
3. Save money
Did you know, if a person with a longer than average commute (e.g. more than 12 miles) carpooled 250 days a year, the potential savings in a two-person carpool could exceed $1,500? [source: rideshare.org] TravelWise strategies like carpooling, trip-chaining, teleworking, and alternative transportation can all reduce the amount of fuel you use, resulting in more money in your pocket.
4. Help yourself and your community
Solo commuters have a large impact on our population, from traffic congestion and pollution to increased stress levels. Deciding to use an alternative form of transportation not only benefits your physical and mental health but the entire community.
5. It's fun!
Sometimes a little competition is just what you need to jump-start new habits.While Utah's air quality is no laughing matter, the challenge is one way to amp up your daily routine and see how many miles and dollars you can save just by making more air-conscious decisions. Get your coworkers involved and see how easy it is to reduce emissions and help Utah's air.
Make clean air your business this winter. Challenge yourself and your co-workers to take part in the Clear the Air Challenge. The challenge starts Feb. 1.
https://cleartheairchallenge.org/wp-content/uploads/ct.jpg
326
611
Marisa Bomis
https://cleartheairchallenge.org/wp-content/uploads/2017_CTAC_LOGO_Still-01.png
Marisa Bomis
2018-01-18 18:08:19
2018-01-30 23:03:38
Make Clean Air Your Business: 5 Reasons to Participate in the Clear the Air Challenge